PRK (Photo Refractive Keratectomy)
The procedure is quite the same but instead of creating a flap inside the cornea, the excimer beam energy is delivered on top of the corneal surface after its superficial layer (epithelium) has been peeled.
Postoperative pain is frequently observed for the first twenty-four to forty-eight hours. A bandage contact lens is placed over the cornea for a couple of days and nights in order to help reducing pain. A local treatment with eye drops is prescribed for a few weeks to a few months after the surgery.
Instead of LASIK fast visual recovery, clear vision is obtained in PRK after a period of one to two weeks. In very rare cases, a touch-up is needed to address the following issues: shifting (which may lead to daytime glare and/or feelings of diplopia when it is sufficiently sizeable), undercorrection, overcorrection, or excessive scarring resulting in corneal opacity (haze) which can limit the degree of visual recovery and lead to a recurrence of the preoperative refractive problem.
Due to delayed visual recovery PRK is a good alternative for low myopic patients who are not good candidates for LASIK. Moreover PRK does not weaken the eyeball and thus allow the practice of all sports, even violent.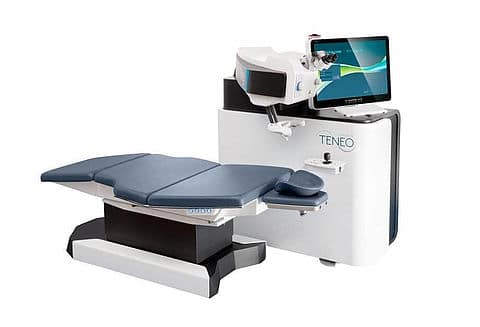 PRK: excimer laser photoablation